Product Upgrade Notice MEAN WELL GST Family Acquires 62368-1 Safety Approval and ErP Efficiency Compliance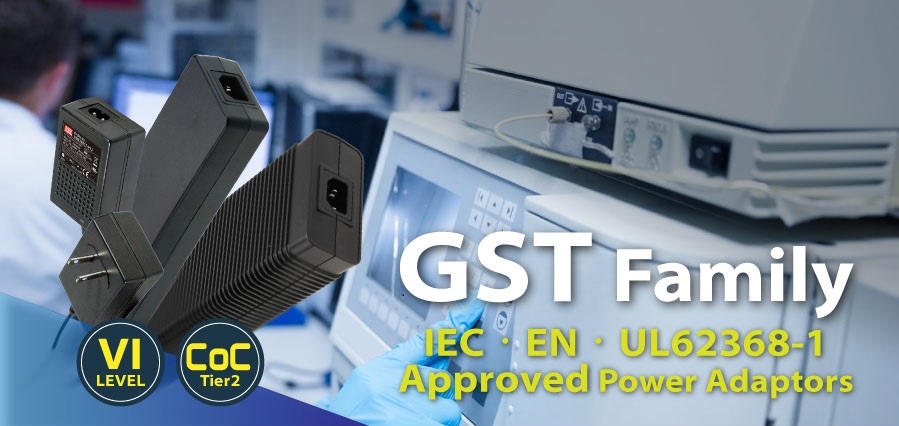 Global Pioneer in Standard Power Supplies Industry, MEAN WELL, has always proud of our five core values as Brand, Distributor, Computerized, Approvals, and Innovation. MEAN WELL always held Approvals in high regard and continuously updates our products' safety approvals in order to fulfill global market demands.

By December 20th, 2020, the new IEC/EN/UL62368-1 will replace IEC/EN/UL60950-1 as the new Information and Communication Technology Equipment safety standard. In response, MEAN WELL dedicated safety team has completed the IEC/EN/UL62368-1 certificate upgrade of the GST18~280 adaptor family shortly after finishing safety upgrade for the LRS family. The safety upgrade is completed one year prior to the enforcement date, allowing end-systems to have an easy and seamless transition to the new standard.

In addition, the European Union directives also announced recently that external power adaptors between 10~250W will be mandated to meet the ErP efficiency standard, starting April 1st, 2020. At the designing stage of the GST family released in 2015, the efficiency demands were taken into thorough consideration and are fully compliant to the USA DoE Level VI and EU ErP efficiency requirements. Therefore, customers do not need to invest additional resources into system reevaluation.

The standard product will be directly upgraded, and there will be no compatibility issues between new and old versions. MEAN WELL will fully absorb the costs incurred from this upgrade and will not increase the product price. If you have any questions regarding this engineering change, please check the updated product datasheet on the MEAN WELL public website or contact your MEAN WELL sales representative.
Upgraded Model
Upgraded date
Lot. No.
GST18/25/36
2019.12.03
Y1912D
GST40/60/90/120/160
No changes required to meet IEC/EN/UL62368-1
GST220/280
2019.12.03
Y1912D
*
GST Family
SPEC :
https://www.meanwell.com/productSeries.aspx?i=26&c=6#tag-6-26

MEAN WELL ENTERPRISES CO., LTD
Marketing Department