1~6W SIP Package DC-DC Converter


After the successful launch of DC-DC unregulated converter ~SPU02/03 series and regulated converter SPA02/SPB03/SPB05 series, MEAN WELL is pleased to introduce 8 new series at the same time~ unregulated 1W SPU01/DPU01 series and regulated 2W/3W/6W SPAN02/DPAN02/SPBW03/DPBW03/SPBW06/DPBW06 series, in order to fulfill the DC-DC SIP package converter product line. Along with these new series phased-in, MEAN WELL can offer a complete power solution for their DC-DC module product line under 10W!

These 8 series are designed to comply with the SIP (Single in Line) standard pin assignment in the market, no matter in mechanism design or in package. Besides feturing ultra-wide input range (the widest 4:1) and ultra-wide range of working temperature (-40~+90°C), they are all equipped with 1500VDC I/O isolation and enjoy three years warranty. Suitable applications include IoT , electronics, telecom, networking, industrial control, and various distributed power architecture…etc. For further details, please refer to the following selection table.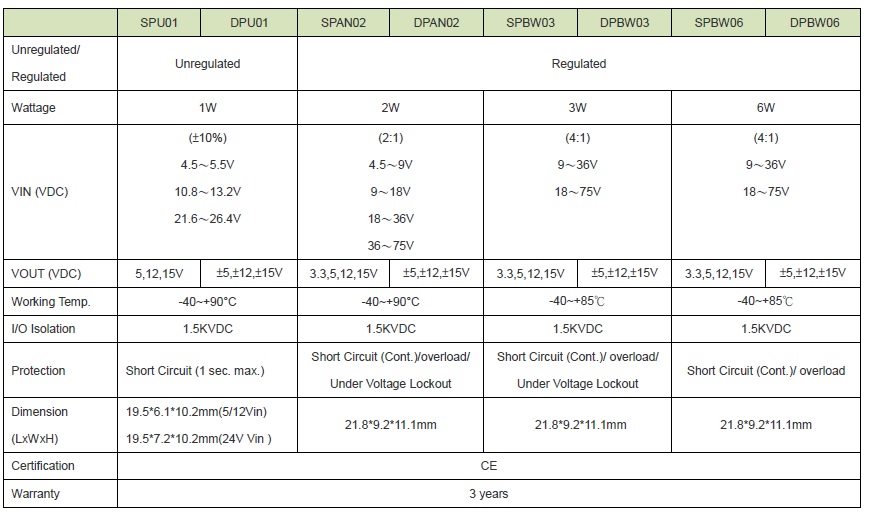 Multiple Voltage Input Range (±10% , 2:1 , 4:1)


Single output/Dual output models


Single in line (SIP) package


1500VDC I/O Isolation


Working Temperature:-40~+90°C


Comply with EMI without any additional components


Protection:Short Circuit


3 years Warranty





SPU01 Series
DPU01 Series
SPAN02 Series
DPAN02 Series
SPBW03 Series
DPBW03 Series
SPBW06 Series
DPBW-06 Series