MEAN WELL won the Industry Contribution Award issued by Taiwan Government
To enhance the mutual communication between industry, government, university and research for the latest academic research direction, Taiwan Ministry of Science and Technology holds "Electrical Power Division Results Presentation" every year. This year, it was held in National Chung Cheng University, December 01-02.
Thanks to the recommendation from chairman of Electric Power Association, professor Lai Yan Sheng, MEAN WELL was very honored to be awarded by the "Industry Contribution Award" this year. Dr. Adam Ho of R&D center represented MEAN WELL to receive the award at the ceremony. On behalf of Jerry Lin, founder of MEAN WELL, Dr. Ho conveyed his appreciation to the evaluation committee and also emphasized the importance of talent cultivation. "Among the top five power supplies manufacturers in the world, there are four Taiwanese companies, and MEAN WELL is one of them. Power supply industry for Taiwan is very pluralistic and competitive." said Jerry Lin, "To keep Taiwan power industry maintaining its international competitiveness, talent cultivation is a very important part. It is also one of the policies for MEAN WELL to have sustainable growth."
The award to MEAN WELL is not only affirm its contributions of dedicating to the innovation of technology and improvement of power efficiency as well as quality for more than 35 years, but also encourage MEAN WELL to actively hold various exchange activities with university in these years, such as Business Visit and Power Electronics Camp. Moreover, MEAN WELL is the few power supply manufacturers that having its own brand, and ranks the top five in switching power supply industry, top two in LED driver industry in the world, which could be called the "Hidden Champion" in Taiwan!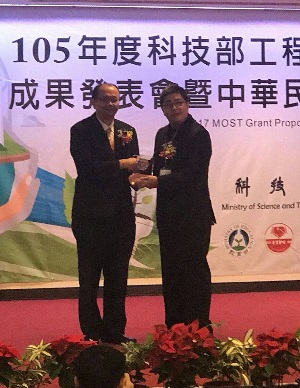 Dr. Ho from R.D. dep. represented MEAN WELL to receive the award. (2017/12/02)