ERG-5000 series:4 channels 5kW Energy Recycling Grid Type Power Inverter

Product Strategy Center / Alex Tsai
Alex@meanwell.com

MEAN WELL - the world leader in standard power supply, in response to global concern for environmental protection, green energy, energy conservation and carbon reduction, has developed an energy recycling grid type power inverter: ERG-5000 series. This series is suitable for front-end manufacturing, power supply or battery production, and other test-related equipment applications, or for back-end customers using the series for end products, charging piles, energy storage systems (ESS), and various energy applications. MEAN WELL's newly designed 4-channel 5kW energy recycling grid type power inverter provides a complete solution for manufacturing - production of energy, recycling of energy, and integration of recycled energy back into the indoor power grid. The rate of energy recovery and energy savings can reach more than 80%. With full digital controls, the ERG-5000 series can be used in conjunction with the listed CMU2A intelligent controller for remote or direct control panel monitoring.
In response to market needs, MEAN WELL's ERG-5000 series power inverter provides 2 types of input voltage models: Blank type (10~60 VDC) and H type (60~420 VDC). Customers can choose according to the production aging and energy recycling application requirements of different industries, such as battery testing equipment, charging energy storage systems, charging piles and others. In addition, thanks to the full digital design of the programmable control functions, the input and output voltage modes can be independently set up as constant current or constant voltage via the CANbus protocol or the CMU2A controller. In addition, the ERG-5000 series has a variety of built-in monitoring signals, such as: over temperature, grid fault, overvoltage and other key alarm functions. For users to quickly connect and integrate with system equipment, the input terminal can be selected as standard NEWSOK quick-connect, or screw lock style. This provides more flexibility for customers to choose the connection method required for serial connection of front-end and back-end equipment or attached load, and fixture design.
For more related products and power solutions, please refer to MEAN WELL Virtual Expo: 3+N products Hall, or contact MEAN WELL's global branches or technical service center for explanation and service.

Wide input voltage range 10~60VDC/ 60~420VDC by models
High efficiency up to 91%
Flexible CC/CV configuration
Programmable and adjustable input voltage/current
Remote control and monitoring by CANBus protocol via CMU2A control console
Protections: overvoltage, undervoltage, over temperature, overpower, grid fault and communication error
5 years warranty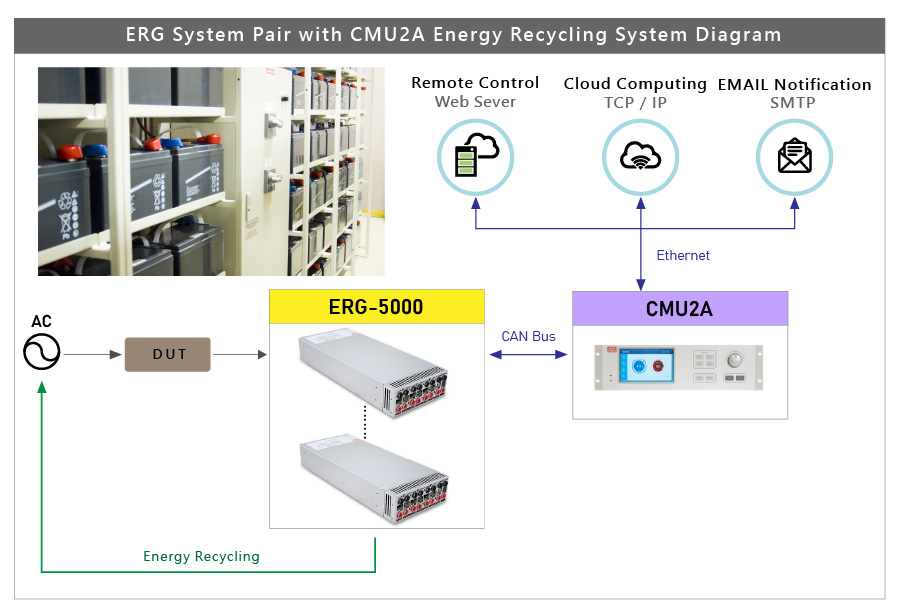 ERG-5000 Series