DRP-3200 & DPU-3200 Series~3200W digitalized 1U slim size parallelable high efficiency power supply (with PFC)


DRP/DPU-3200 series are 3.2KW single output rack-type/enclosed type AC/DC power supply separately in 1U low profile with high power density up to 37W/inch3. These series operate at 90-264Vac input voltage and offer models with the DC output mostly demanded by the industry. Each model is cooled by thermostatically controlled fan. Moreover, DRP/DPU-3200 series provide vast design flexibility by equipping various built-in functions such as output programming, active current sharing, remote ON-OFF control, auxiliary power, built in ORing FETs and Positronic connector to support hot swap (DRP-3200) and etc.

Through continuous R&D innovation on technology, it contributes to MEAN WELL's first fully digitalized PSU series. Digitalized PSU design further improves switching efficiency, power density, reliability and also makes possible programmable tuning on electrical parameters and internal control and human machine interface (HMI). System-wise power management is feasible by using digital controller and PMBus or CANBus communication protocols to realize synchronous monitoring on input and output parameters. Step by step, the goal of intelligent power supply is therefore achieved in the long run. Both series are suitable for applications in industrial automation, Telecommunication equipment, battery charging equipment and EV charging stations that require power source capable of high output (10KW and beyond).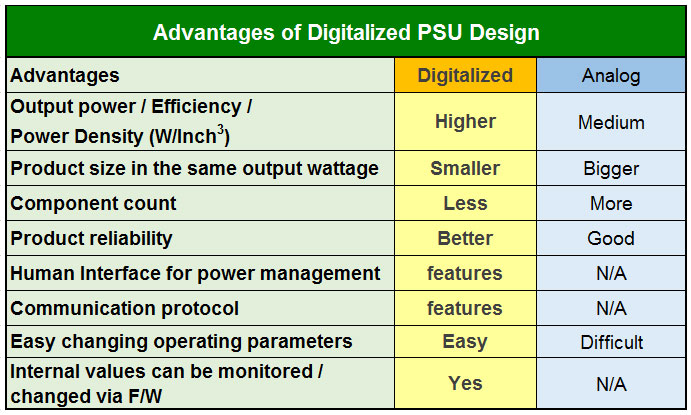 Universal AC Input/ Full Range
Built-in Active PFC
High efficiency up to 94.5% (48V model)
Forced air cooling by built-in DC fan
Output voltage and constant current level programmable
Built-in ORing FET to support PSUs in parallel connection
Active current sharing, total system power up to 16000W (4+1, DPU-3200);25600W (7+1, DRP-3200)
Protection: Short Circuit/ Overload / Over voltage/ Over temperature
Optional communication protocols, PMBus or CANBus. (DPU-3200);
Support PMBus, CANBus optional (DRP-3200)
Optional conformal coating
Safety approval: UL/TUV/EAC/CE/CB
Dimensions ( LxWxH)- DPU-3200 : 325.8x107x41 mm
DRP-3200: 325x107x41 mm
5 years warranty