SLD-150 Series: 150W Ultra-Slim and Linear Type with Dual-certified LED Driver

Product Strategy Center/ Rex Lin
Rex.Lin@meanwell.com

MEAN WELL's new SLD-150 Series LED drivers continue the ultra-slim and linear-shaped design of the previous SLD-50/80 series, and increases the overall wattage to 150W. The new SLD-150 Series provides power for a more complete range of decorative lighting/advertising light boxes or linear luminaires for a wide variety of lighting applications. In addition to EN61347, EN60335-1 household electrical safety regulations also apply, which provides for use in vending machines and refrigerated display cabinet lighting.

The SLD Series is an ultra-slim and linear-type LED driver that has been on the market for over 3 years, and has won the trust of customers, with popularity and sales steadily increasing. The SLD Series features class II/2 (plastic housing) and insulated design, and can provide 12V/24V output for LED light strips, such as backlights for advertising light boxes or for linear type lighting luminaires. In addition, the SLD-150 Series also provides a 56V output model that can cover the 30V~56V voltage range for use with LED light boards. With SELV and isolated circuit design, this series can be a safer indoor LED driver. The wider adjustable range current and constant power design can reduce the number of output models (SKU) and matching design problems, improving the efficiency of stocking units.

In addition to the aforementioned features and applications, MEAN WELL has also applied for EN60335-1 certification for the full SLD-50/80/150 series, providing customers with lighting solutions for household appliances, accelerating product certification and mass production.


SLD Series Ultra-Slim and Linear LED Driver

Spec.

Series Name
12V
24V
56V
(C.P mode)
EN61347
EN60335
Warranty
Diemsion
(mm)
SLD-50

V

V

V

V

V

3

280x30x16.8

SLD-80

V

V

V

V

V

3

320x30x16.8

SLD-150

V

V

V

V

V

5

330x35x22

Wide input range 110~305V AC
Ultra-slim and linear housing design (22mm Height)
Dual safety certification with EN61347/EN60335-1
Built-in active PFC design with output efficiency up to 93%
Design with class II and SELV
Protections: Short circuit, overvoltage, overload, over temperature
5 years warranty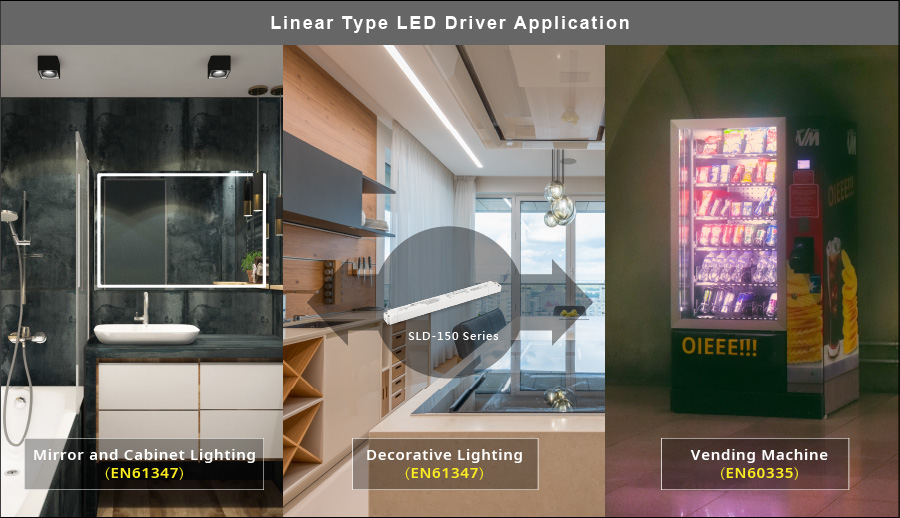 SLD-150 Series