NCP-3200 Series: 3200W New Generation 2-in-1 Rack-mounted Switching Power Supply & Battery Charger

Product Strategy Center / Alex Tsai
Alex@meanwell.com

MEAN WELL, the global leader in standard power supplies, based on reasonable cost and high efficiency, has designed and launched its new generation of rack-mounted power supplies, the NCP-3200 series. The series provides 3 output voltage models, including low-voltage SELV-compliant DC 24VDC/ 48VDC and high-voltage DC 380VDC, which can be used in a wide variety of power electronics, communication industries and energy systems' equipment.

Considering the application requirements of energy supply systems, the 24 VDC/ 48VDC low-voltage DC power supply and charger output models are specially designed with firmware settings for 2-in-1 application via software settings, suitable for various kinds of light/heavy industrial machinery and equipment, automation or mobile equipment, 5G or all kinds of communication base stations, charging piles or large charging stations, data server centers or energy storage systems and many others. In addition, the high-voltage 380VDC output model is designed as a power supply, which is suitable for high-voltage centralized power supply, horticultural lighting systems, semiconductor equipment, energy storage equipment and many others. It is very suitable for parallel power supply with high-wattage and high-voltage DC power. The NCP-3200 series rack-mounted standard power supply is the best choice for end customers in the market to connect in parallel and increase wattage for industrial applications.

In terms of control functions, the NCP-3200 series has built-in programmable output voltage (PV) and programmable output current (PC), and customers can directly adjust the output voltage or current through external analog signals. As for intelligent applications, the NCP-3200 series is equipped with PMBus and CANbus, two international communication protocols which can be selected for industrial control and power supply control, and can also be used directly with MEAN WELL's multi-industry general intelligent controller CMU2. Furthermore, the NCP-3200 series can be easily combined with 19" Rack chassis in parallel to provide up to 128kW intelligent chassis, or stack each chassis in parallel to form a system power supply or charger with larger wattage. Large wattage cabinet power supply systems are most commonly used as high-power centralized power systems, such as: industrial control or electric machine rooms, information and telecommunication server power systems, large charging stations, logistics or automation equipment, industrial heating or electrolyzer slot power system equipment, sewage treatment equipment and others.
Series
DRP-3200
NCP-3200
Output voltage

24V/ 48V

24V/ 48V/ 380V

Charging mode

X

24V/48V can be selected via software settings

SEMI F47
X

Design refers to SEMI F47

Parallel units

8 pcs

40 pcs

Connector
Positronic
PCIM34W13M400A1
< Alltop
C27309-10749-Y
Support cabinet
DHP-1UT
DHP-1UT-B (24V/ 48V)
DHP-1UT-BHV (380V)
Dimension (LxWxH)
325x 107x 41mm (PSU)
400x 482.6x 44mm (Rack)
325.8x 107x 41mm (PSU)
400x 482.6x 44mm (Rack)

Universal AC input / full range
Power supply or charger mode can be selected by PMBus, CANBus or SBP-001(only for 24V/48V models)
High efficiency up to 94.5%
Built-in programmable output voltage(PV) and programmable output current(PC)
Active current sharing up to 10 rack shelves (DHP-1UT-B) and the maximum power supply that can be connected in parallel is 40 units
Design refers to SEMI F47@200VAC
5 years warranty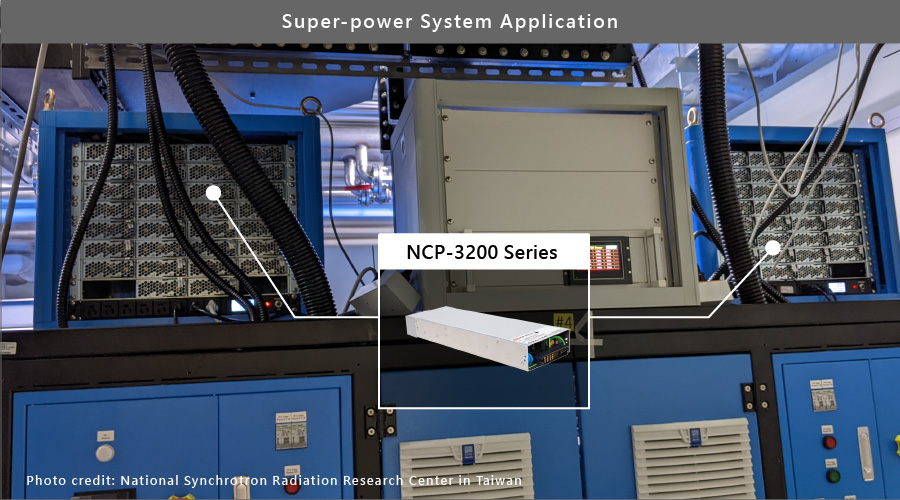 NCP-3200 Series