MEAN WELL ASEAN connecting to global networks and expanding business
By: Elyse Li/Group Brand Center
elyse@meanwell.com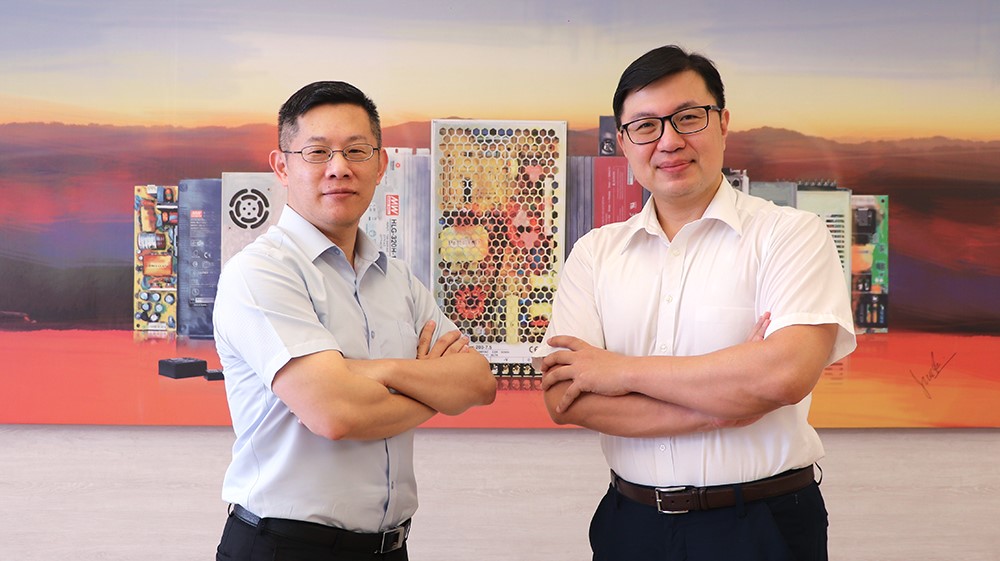 MEAN WELL Investment Manager Damien Lu
(Left), MEAN WELL Sales Director of Asia & AN Leo Wu(Right)
The ASEAN market provides SDG Group 2 Billion growth momentum
With the change of regional economic integration and RCEP taking effect in 2022, the most significant trade bloc that accounts for most population, the ASEAN, will become the new blue ocean markets! This month we interviewed Sales Director of Asia & AN Leo Wu and Investment Manager Damien Lu to share the influence and importance of MEAN WELL ASEAN to SDG Group's development.

Leo said that MEAN WELL ASEAN comprises MEAN WELL Singapore(MEAN WELL SINGAPORE PTE. LTD.) and MEAN WELL Malaysia(MEAN WELL MALAYSIA SDN BHD). The demographic dividend and domestic market of ASEAN are two main reasons that the SDG Group has a prosperous future in ASEAN.

MEAN WELL Singapore was established in 2021 at Paya Lebar, Singapore. It's acting as headquarters (HQ) for the ASEAN region. Besides the tax advantages of Singapore, it also attracts many international enterprises to set their regional headquarters here, which provides numerous investment targets. MEAN WELL Singapore is acting as the ASEAN financial and investment holding center. MEAN WELL Malaysia was established in 2022 by share acquisition the former Malaysia distributor – Powernics Sales SDN BHD, located in Puchong, Selangor Malaysia, acts as an operation center in ASEAN. MEAN WELL Malaysia is playing a role in serving the Malaysian market in terms of sales, warehouse, technical support and after-sales service. It also supports operational missions and direct customer service across the ASEAN market.


Glocalization of service assists semiconductor giant in maintaining the regular operation of the factory
The multilingual talents of MEAN WELL Malaysia initially provide technical services in South East Asia, which will extend to India, Australia and New Zealand in the future. With the timely service, the MEAN WELL technical services team also assists the semiconductor giant in maintaining the regular operation of the factory.
Leo said, "We have never thought that the vice president, the Asia management team of semiconductor giant, and the CEO of semiconductor testing equipment suppliers will make a personal conference call regarding the PSU shortage issue". During the meeting, the customer bluntly said that without the PSU, the key component, the testing equipment of the chip factory would be out of function. Luckily the shortage issue was solved after the coordination with MEAN WELL branches. Furthermore, MEAN WELL Malaysia technical services team provides professional consultancy on-site and helps customers successfully design in semiconductor testing equipment with the PSU.
Investment Manager Damien Lu indicates that MEAN WELL Singapore will accelerate the growth momentum by utilizing holding companies, investments, mergers and acquisitions. MEAN WELL ASEAN will keep pioneering the PSU industry and actively develop customers of renewable energy, ICT, and emerging industry. Combine the 3+N system solutions, globalization technical service, and power supply complements of Powernex Precision Technology to provide the one-stop power solution. With the strength of SDG group partners, we could co-create a better future!