企業理念
MEAN WELL社は「善意」に根ざしたブランド化を推進しています。
企業の基礎は信頼できる会社、信頼できる人々、信頼できる製品に他ならない、と弊社は考えています。
ビジネスビジョン:
優れたものを追求
長期的な経営
利益の創出
社会への貢献
持続可能な開発と繁栄には継続的な卓越性、革新と改善の追求が不可欠であり、ボトムラインと社会的責任のバランス感覚が企業に要求されています。
New MEAN WELL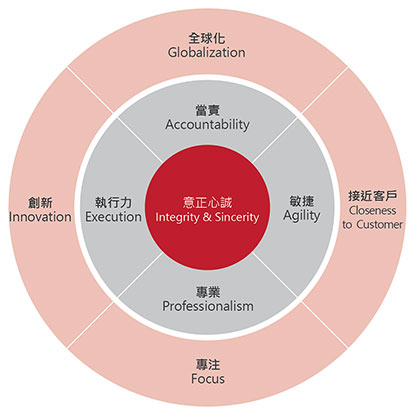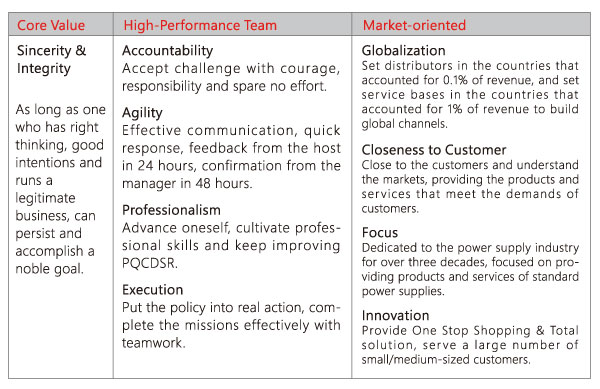 品質方針
「品質の全面保証と顧客の満足」に専念し、製品、経費、および長期信頼性に尽力し、電力供給産業を牽引しています。品質は、成長と顧客の信頼を持続するための鍵です。
MEAN WELL社では、年間アフター修理ケアおよび製造時における欠陥発生率10%低下を目指し、経営目標を設定しています。弊社はあらゆる製品を最適な品質でお届けできるよう、生産ラインにおけるIQC/IPQC/FQCにサポートされる製品設計段階から、品質保証部門による厳しいDVT/DQTを実施しています。
Total Quality Assurance

• Enhance Total Quality Management (TQM) System.
• Standardize internal learning process.
• Improve sourcing management and create preventive measures to avoid recurrences.
Customer Satisfaction
• Provide quality and cost effective product along with our superior customer service.
• Customer's satisfactory is our ultimate goal.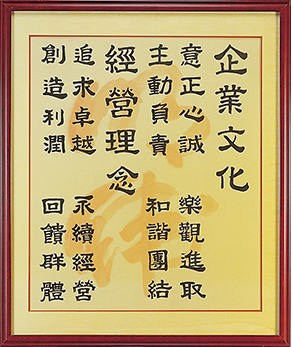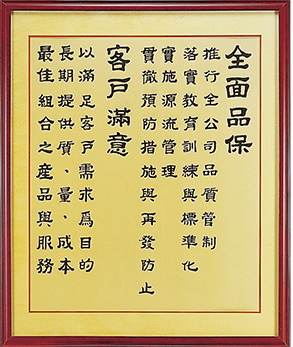 EHS Policy
MEAN WELL's core business include research, design, manufacture, sale, and customer service of switching power supplies. We, MEAN WELL, being aware of our responsibility of ESH (environmental safety and health) within the enterprise, is willing to ensure proper impact on the environment while conducting our operations of any activity, product and service.
We, MEAN WELL, hereby further make a commitment to:

Implement ESH management all over the company and thoroughly prevent and continuously improve pollution
Comply with eco-related regulations and other relevant requirements
Be devoted to develop energy-saving products, promote green supply chains, and minimize environmental impacts
Carry out the management of risk assessment evaluations and educational training, and achieve the goal of zero severe occupational accident
Fulfill the enterprise's social obligation to provide a safe and healthy working environment, and encourage employees to participate in activities related to the environmental protection and public welfare
Intellectual Property Rights Policy

Bolstering IP knowledge of personnel
Consolidating the structure of IP management system
Accumulating company's IP assets
Securing and monetizing company's IP rights