LRS-N2 Series: 100W-600W Enclosed Type Power Supply with 200% Peak Power


The enclosed-type power supplies are used in a wide range of industrial fields, including for various electrical equipment or electronic controls. Normally, the power supply would need to provide higher startup peak power for inductive loads such as motor products or electronic controls, it would usually startup with a large current capacitive load application due to the energy storage capacitors on circuit. Therefore, MEAN WELL has developed the new LRS-100/200/350/600 N2 series, to provide customers with a power supply that has instantaneous 200% peak power consumption (duty≦35%) without increasing the wattage, also to help customers improve application problems and reduce total costs.

The enclosed-type is one of the major product lines, MEAN WELL also continues to develop new products to provide more standardized power supplies to serve global customers and various industrial applications. The biggest difference between the newly-launched LRS-100/200/350/600 N2 series and the previous LRS is providing instant 200% peak power for up to 5 seconds, which reduces the issues when matching with various instantaneous high current during startup applications. Customers don't need to buy higher wattage, simply use it with a normal wattage that combined with instantaneous peak power. By doing so, this can not only reduce the purchasing cost of power supply but also help customers to improve application problems. The output voltage provided this time are 12V/24V/36V/48V models, which are commonly used in industrial equipment. The other mechanical dimensions are the same as the previous LRS series, making it convenient for customers to replace them.

In addition to the UL/EN 62386-1 certification, The LRS-N2 series is also compliant with EN standards. 61558-1 OVC III design for industrial power supply. Generally, products with OVC III design are more suitable for industrial equipment because they can be connected directly from the distribution box and save the cost of using an additional isolation transformer. At the same time, the series is also dual-certified to help customers shorten the certification process, and can be used with various electronic equipment or mechanical equipment, such as robotic arms, motor control, coffee machines, emergency lighting systems, etc. If you have equipment that requires instantaneous 200% peak power consumption, simply choose LRS-N2 series or please contact the MEAN WELL sales team.

| | | | | |
| --- | --- | --- | --- | --- |
| Wattage | 12V | 24V | 36V | 48V |
| LRS-100N2 | V | V | V | V |
| LRS-200N2 | V | V | V | V |
| LRS-350N2 | V | V | V | V |
| LRS-600N2 | V | V | V | V |

Up to 200% peak power capability

Wide input range 110 or 230 VAC
Protections: Overload/Over Voltage / Over Temperature
1U Low profile design
Meet UL/EN62368-1 and EN 61558-1 dual-certificate
Meet Over Voltage Category III (OVC III)
LED Indicator for power on
3 years warranty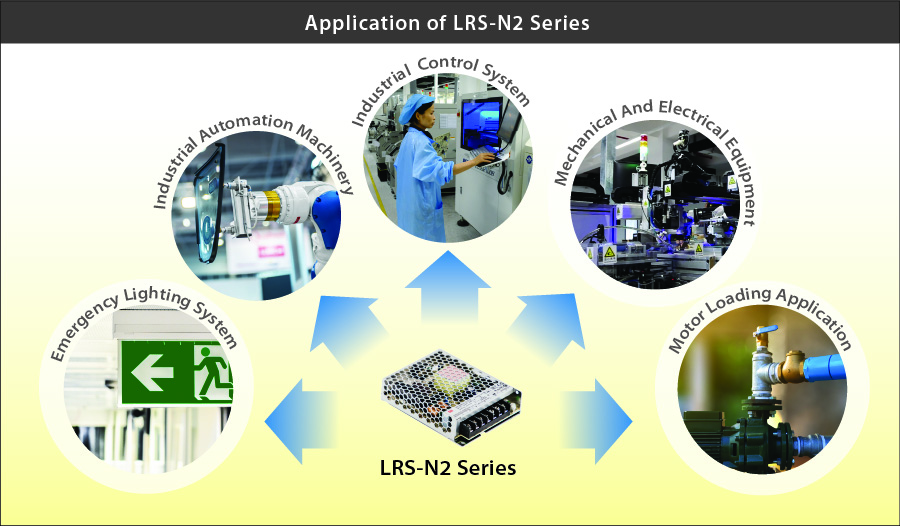 LRS-100N2
LRS-200N2
LRS-350N2
LRS-600N2