World Ranking of Power Supplies, MEAN WELL Continued to Rise!
According to the well-known research institution MTC (Micro-Tech Consultants) report for power supply market (volume 255 March 2017), within the power supply manufacturers of OEM/Embedded Power (DC Output) segment, MEAN WELL ranks NO. 5 by 2016 sales revenues of USD 783M, one grade improved from No. 6 last year. In addition, from another report published by research Institution IHS in 2016, MEAN WELL ranked NO. 4 in the global AC-DC power supply market.
The reporter of MTC also mentioned that from 2009 to 2016, MEAN WELL is the only company that has grown consistently and significantly with CAGR of 23.2%. Over that period no other large company had a double digit CAGR.
"MEAN WELL has its own brand and a complete global distribution channel," says Alex Tsai, marketing director. "We have ability to integrate the requirements of various industry markets, and are able to quickly provide a variety of standard power supplies." In addition, due to the product lines covering different industrial applications, and orders not concentrated on few customers, MEAN WELL can benefit from the risk diversification and keep growing.
"Both reports show that for other top power vendors, ODM/OEM business are their main source of revenues, on the contrary, MEAN WELL is the only one manufacturer that has its own brand and dedicate to the standard power supplies (Off-the-shelf products)", says Yvonne Chen, marketing manager at MEAN WELL.
To response the competition in the global power market, many international manufacturers continue to adjust the marketing strategy, MEAN WELL is no exception. In 2017, MEAN WELL announced "transforming and growth" as the 35th anniversary slogan. Not only to fully implement the core values of "Brand, Distribution Channel, Computerization and Global Certification, but also to foster future succession team are their primary task in 2017. For 35 years, MEAN WELL continued under the corporate spirit of "have good intentions", and this value will lead them to the next 35 years of outstanding prospects.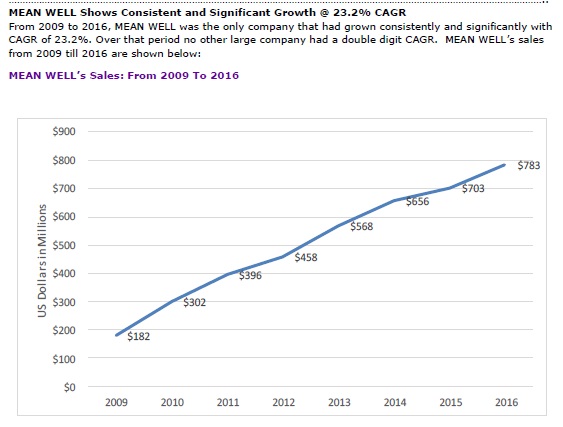 Source: Micro-Tech Consultants (Vol.255: March 2017)