MEAN WELL 3% Stimulation Plan - European Summary
by MEAN WELL Europe

Badly hit by the COVID-19 crisis, the Global Economy has experienced a huge recession since the outbreak of the pandemic. With its Corporate Social Responsibility (CSR) and motto of "Having Good Intentions", MEAN WELL had initiated the "3% Industry Stimulation Plan" last September to boost the economic recovery process.

By offering 3% of its total Q4 revenue in 2020, the program proposed by MEAN WELL has set aside USD 8,9M, which counts 3% of its total Q4 revenue (USD 299M) in 2021, to further support industry recovery (USD 6,3M) and social welfare activities (USD 2,6M).

For the Europe region, MEAN WELL Europe (MWEU) has also taken part in the "3% Industry Stimulation Plan"; With the budget of USD 431K, MWEU has contacted several local welfare organizations and partners to define suitable Charity projects. In total, more than 30 institutions, in the field of Health Care, Culture, Education, Environment and Disadvantaged, have received the donation from MWEU.
Please refer to Donation Summary for the complete list.
"I have received a lot of positive energy when making the donations to those organizations… "said Coleman Liu, General Manager of MWEU. "We have seen many volunteers contributing selflessly their time and energy to people in need; they seek ceaselessly ways to contribute to the society under the pandemic physical restrictions. They have my deepest and most sincere respect." One of the donations from MEAN WELL to a German association arrived just in time. The restrictions have stopped the trained volunteers from paying visits to children diagnosed with cancer for a while, and the fund will be used for equipping the trained volunteers with mobile devices so that they can contact virtually the children and continue to send them support.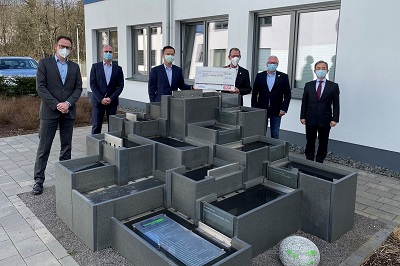 "It is more blessed to give than to receive", commented by Coleman. "We are more fortunate than many others in the world, and that's the reason why MEAN WELL has never stopped following its motto of "Having Good Intentions" and continues to fulfill its ESG (Environment, Social and Governance) obligations via branch offices worldwide."

Other than the appreciation received from welfare organizations who received our sponsorship, the activities also attracted attention from several local media. The Social Welfare Committee of MWEU further shared that, as soon as the pandemic situation improved, MWEU would organize events for all the local employees to participate in community service project activities, so that everyone can contribute to the making of a better world.