NPP-1700 Series: 1700W Reliable Ultra-Wide Output Range Battery Charger & Power Supply 2-in-1

By: Frank Chen/ Product Manager
Frank@meanwell.com

Shortly after launching the 450W/750W/1200W ultra-wide range charger and power supply multi-purpose NPP-450/750/1200 series, MEAN WELL is now releasing the higher power— NPP-1700 series. The most important feature of this product is battery charger and power supply 2-in-1, which allows the user to flexibly switch its operating mode (factory default is set to battery charger). In addition to running 3 stage charging curve for lead-acid batteries, the unit can also be switched to provide constant voltage power supply for normal load. Switching the operation mode is as simple as plugging and un-plugging a short circuit pin on the front panel.

NPP-1700's key features include ultra-wide output voltage, adjustable output voltage via VR on front panel (10.5~21V, 21~42V, 42~80V), adjust output current from 50~100%, built-in thermal controlled cooling fan to reduce noise, -30~+70°C operating temperature, built-in remote ON/OFF control, compliance to ITE IEC/EN/UL62368-1 and household appliances EN60335-1/-2-29 dual safety, multiple built-in intelligent protection functions, and 3 years warranty.

The new series is a safe, durable, and cost-effective dual-purpose power supply/charger, and it is suitable for charging systems used for RV, RV trailers, electric scooter, skateboard, AGV, AMR, service robots, medical cart, electric wheelchair, portable light tower, yacht, security equipment chargers, etc. as well as providing power to drive industrial control, information technology, communication, security control systems and more.



Multi-function single unit battery charger or power supply operation modes selectable
Ultra-wide output voltage (10.5~21V, 21~42V, 42~80V)
Output voltage and current adjustable via potentiometer
3-stage charging curve for charging mode
-30~+70oC wide operating temperature
Thermal controlled DC fan for noise reduction
Multiple protections: Short circuit / Over load / Over voltage / Over temperature
Suitable for lead-acid or li-ion batteries
Carry handle accessory available (Order No.: DS-Carry handle)
Safety approval: CB, UL, DEKRA, EAC, CE, UKCA (62368-1 + 60335-1/-2-29)
3-year warranty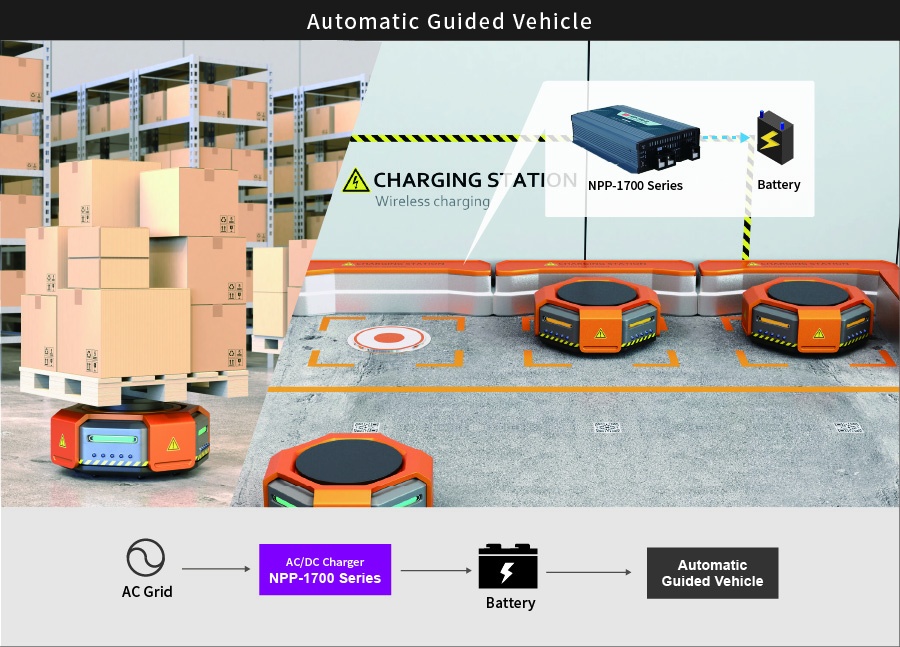 NPP-1700 Series