PowerNex | FT Series: Distribution Box
Viewers : 1514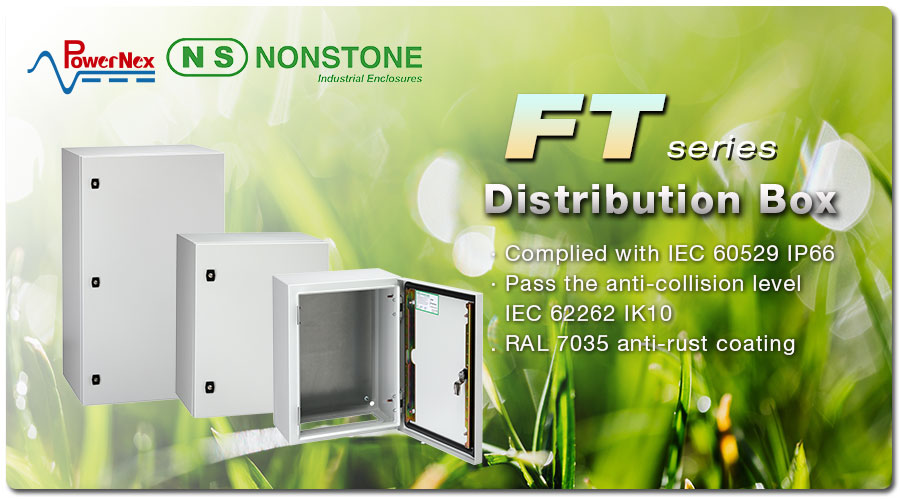 By: George Lai / Product Manager

Recently, the frequency of extreme anomalous weather conditions around the globe, such as short-term enormous rainfall, has been increasing. To ensure effective protection of the distribution box electrical and electronic components during these pervasive weather conditions, Nonstone Co. Ltd. has introduced its new FT series distribution box enclosures.
Nonstone's FT series industrial enclosures are constructed of 1.2mm-1.8mm thickness mild steel with continuous welding. Multi-folded edges strengthen the enclosure body and prevent dust and water from entering the inside of the enclosure. A 2.0 mm galvanized steel mounting plate is included, and the series pass the anti-collision level IEC 62262 IK10. The surface treatment uses RAL 7035 powder coated finish, and provides weather and corrosion resistance IEC 62208. Sealing of the enclosure is made with a seamless foamed-in-place polyurethane gasket. A removable gland plate at the bottom of the enclosure provides a more convenient user experience for wire installation. Enclosures are equipped with robust industrial locks and hinges. With the IP 66 protection, the FT series serve as reliable industrial enclosures for diverse environments.
The FT series enclosures come in 40
+
standard dimensions, ranging from 20x20x15 cm (height, width, and depth) to 120x60x40 cm, suitable for most applications. Nonstone also offers custom services such as pre-cutouts and special dimensions to meet customers' further needs. The FT series enclosures are applicable across industrial, agricultural, mechanical, transport, and most other industries.

Complied with IEC 60529 IP66

Pass the anti-collision level IEC 62262 IK10

Provides weather and corrosion resistance with RAL 7035 powder coating

40+ standard dimensions for customers to choose from

Suitable for industrial, agricultural, mechanical, transport, and most other industries applications

Custom services such as pre-cutouts and special dimensions are available