DC Centralized Power Solutions for Mini/Micro LED display
By: Rex Lin/Product Strategy Center
The LED display is mostly used in outdoor advertising broadcasts and concert applications with fine pixel pitch. However, with the development of LED miniaturization, Mini and Micro LEDs can be used in indoor LED displays to meet the application requirements of small pixel pitch and high resolution. Therefore, more large-size (>100-inch) indoor LED displays, including cinemas, convention centers and virtual scenes for movie shooting, are suitable for small pixel pitch indoor LED displays.

However, using LED displays in indoor applications must overcome the following requirements, such as noiseless, low radiant heat, safe use of electricity and miniaturization. Generally, the LED display is used outdoors and is equipped with a fan to dissipate the system's heat or internal power supply heat. When the fan rotates, it will be accompanied by the noise of the high-speed fan, but it will not impact the viewer because it is used outdoors. If the LED display is used indoors, it will interfere with the listening quality of audio-visual playback and cause radiant heat problems. In addition, the LED display color changes through different LED wavelengths. Therefore, you will feel the radiant heat of the LED when viewing at close distance; how to reduce the heat of the LED and conversion loss of the internal control board are the problems we must overcome.

In addition, indoor displays are easily touched by users (children), and how to reduce the risk of electric shock is also an essential safety requirement. Therefore, we recommend adopting a front-end DC centralized power system that meets the safety voltage (SELV). The front-end DC centralized power system integrate with the back-end low-voltage DC-DC power module to drive control ICs with 4.2V or 3.8V to improve electrical safety and reduce unnecessary conversion losses and LED radiant heat. In this way, the power supply and the control board can be designed to separate heat and electricity, and the heat source can be dispersed to reduce the problem of radiant heat on the LED display. Generally, the indoor space is relatively limited. Using a low-voltage centralized power supply can also reduce the structure of the indoor LED display, which is in line with the miniaturization design, to reduce the installation space and improve the aesthetics of the mechanism.

MEAN WELL provides low-voltage (24V/48V) DC centralized power solutions, especially for small pixel pitch indoor LED displays, to help customers solve the problems as mentioned above in indoor display applications. MEAN WELL can provide front-end low-voltage DC centralized power systems, such as UHP/ DPU/ RST and SHP series, which can meet the SELV safety voltage, and then match with Class III DC-DC NID100-4.2V module to drive LED control board, to solve the application requirements of noiseless, low radiant heat, safe electricity use and miniaturization.

Especially for the front-end power system, MEAN WELL provides a variety of single-phase or three-phase AC power system solutions to meet the different needs of customers. For the DC-DC module, MEAN WELL provides two current output specifications of 11A and 15A with different small pixel pitch LED displays that can offer enough brightness values from 600 to 1200 cd/m2. It just needs 2 pieces of DC-DC NID100 module for the driver control board. For detailed system power solutions and application case introductions, please refer to the following table and links below.
Table 1. DC centralized bus power solution
24V/48V DC centralized Power Solution Features:
Reduce the system(fan) noise issue
Reduce system heat and LED radiation heat
Meet safety extra low voltage circuit (SELV) application
Compact size for system design
Parallel function available for front-end power
Case Studies:

For this DC centralized power solution, MEAN WELL cooperates with PBM customer Foshan Chainzone Technology Co., Ltd. which operate with an indoor small pixel pitch (P1.5) display, each cabinet design with two NID100-4.2V/10A DC-DC module to driver control board and can provide 8K high-definition resolution. It is used at the MEAN WELL Suzhou intelligent park convention center for staff training or distribution conferences.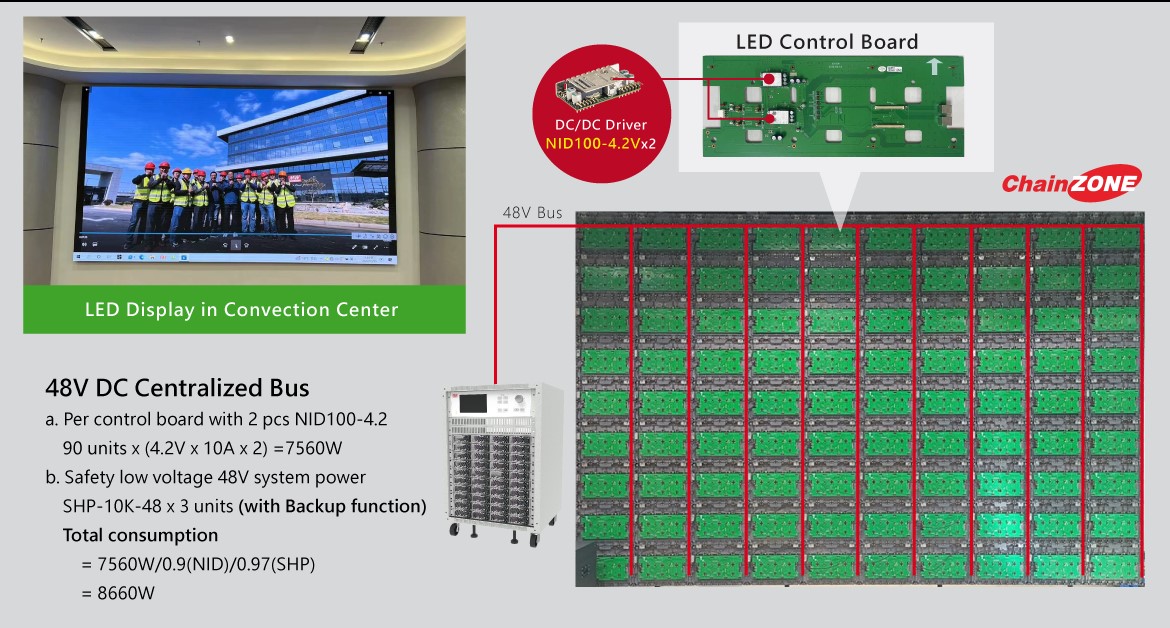 Figure 1. 48V DC centralized bus (SELV) for indoor mini/micro LED display application

Mini/Micro LED Display Power Solutions: https://mailchi.mp/meanwell.com/miniled_en

If you have any product or technical problems, you are sincerely welcome to contact our sales team and technical team. Please feel free to check our MEAN WELL EXPO for more products and power supply solutions.

MEAN WELL EXPO: https://expo.meanwell.com/