NPB-1200 Series: 1200W Reliable Ultra-Wide Output Range Intelligent Battery Charger

By: Frank Chen/ Product Manager
Frank@meanwell.com

Shortly after launching the 450W/750W ultra-wide range reliable and intelligent universal charger NPB-450/750 series, MEAN WELL is now releasing the 1200W higher wattage— NPB-1200 series. This series features intelligence, wide voltage, multi-purpose design, flexible functions, safety and durability as its core features. The unit is designed with built-in MCU and newly patented auto ranging battery detection technology, which will automatically adjust charging voltage settings depending on the battery voltage (Note this mode is only suitable for Li-ion batteries with BMS). Additionally, there are 12V(10.5~21V), 24V(21~42V), and 48V(42~80V) three different models that come with a 2:1 wide charging voltage range. Each unit can be used for a wide range of batteries, so the users do no need to purchase multiple chargers due to variety of batteries. This not only saves costs for users, but also contributes to saving the environment and sustainable development.

In addition to intelligent voltage detection, ultra-wide voltage, and universal applications, the NPB-1200 can also pair with the MEAN WELL SBP-001 to connect to computer to program various parameter such as select 2/3 stage charging, adjust charging voltage/current, set charger timeout, etc. The charger parameters may also be adjusted manually via the user-friendly DIP S.W. on the front panel for the charging current (50~100%) or selection between the 4 preset curves. For more professional application integration, the NPB-1200 has built-in CANBus protocol, which allows remote setting and monitoring of the charger. In terms of safety features, the charger detects if battery voltage is correct and if it is properly connected before it starts charging.

The charger also has reverse polarity protection. It is certified to ITE IEC/EN/UL 62368-1 and household appliances EN60335-1/-2-29 dual safety, ensuring reliable operation. Combined with 3 years warranty, it is a universal intelligent charger with excellent cost performance. It is suitable for charging systems used for RV, RV trailers, electric scooter, skateboard, AGV, AMR, service robots, medical cart, electric wheelchair, portable light tower, yacht, security equipment chargers, etc.



Ultra-wide charging voltage (10.5~21V, 21~42V, 42~80V)
Built-in CANBus protocol for control, setting and monitoring
Programmable 2/3 stage and charging curve settings via SBP-001
Manual setting for 2/3 stage and 4 built-in charging curves via DIP switch
Adjust charging current between 50~100% via VR on front panel
Over temperature automatic de-rating
Thermal controlled DC fan for noise reduction
Temperature compensation function to prolong battery life
Multiple protections: Short circuit / Over voltage / Over temperature / Battery under voltage / Battery reverse polarity (no damage)
Suitable for lead-acid (Pb) and li-ion batteries
Carry handle accessory available (Order No.: DS-Carry handle)
Safety: CB, UL, DEKRA, EAC, CE, UKCA (62368-1 + 60335-1/-2-29)
3-year warranty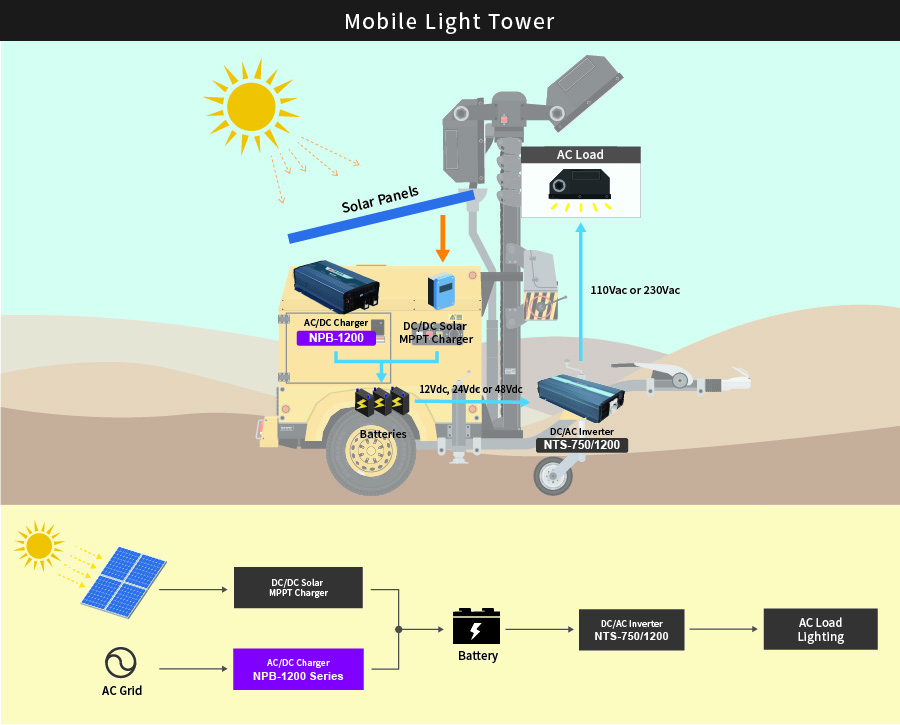 NPB-1200 Series