HRPG-1000N3 Series: 1000W Enclosed Type Power Supply with 320% Peak Power
Viewers : 3087


The HRP (G) series is positioned as a high-end enclosed-type industrial power supply, designed with a double-sided layout PCB and provides a variety of control functions: such as DC OK/Remote ON-OFF/Remote Sense and parallel functions (>600W). The double-sided PCB layout offers stable quality in harsh vibration or high ambient temperature applications for the industrial field, related monitoring functions can be used in combination with human-machine interface and automation control. In addition, MEAN WELL also provides HRP(G)-N3 series products with >300% peak power, which can be used with inductive loads or capacitive loads that require peak power, providing customers with a complete solution for standard industrial power supply.

HRPG-1000N3 series, the brand new enclosed type power supply with 320% peak power that meets the customer's higher wattage requirements. The enclosed type applications are used in a wide range of industrial fields, including various motor equipment or electronic control applications. When operated with inductive loads such as motor products, a higher startup power needs to be provided at the moment; or when operated with electronic control circuits, there will be more electrolytic capacitors, resulting in a large current capacitive load at the instant of startup. Therefore, MEAN WELL's new HRP (G)-150/300/600/1000N3 series is mainly designed to help customers using power supplies with >300% peak power (Duty≦35%) without increasing the wattage. By using the same wattage combined with instantaneous peak power, customers do not need to purchase higher-wattage power supplies to improve application problems and reduce total costs at the same time.

HRP (G)-N3 series offer different outputs with 12V/24V/36V/48V models commonly used in industrial equipment. The mechanical dimensions are the same as the previous HRP(G) series, making it convenient for customers to replace them. Also, it complies with UL/IEC/EN 62368-1 certification so it can be operated with various electronic equipment or mechanical equipment: Such as robotic arms, motor loads, coffee machines, fire emergency bus lighting systems, etc. If you have equipment that requires >300 % peak power application, simply choose HRP(G)-N3 series products or please contact our sales representative for further requirements.

| | | | | | |
| --- | --- | --- | --- | --- | --- |
| Wattage | 12V | 24V | 36V | 48V | Remark |
| HRP-150N3 | V | V | V | V | Released |
| HRP-300N3 | V | V | V | V | Released |
| HRP-600N3 | V | V | V | V | Released |
| HRPG-1000N3 | V | V | V | V | New Release |
Up to 320% peak power capability

High efficiency design >94%
Protections: Short Circuit /Overload/Overvoltage/Over Temperature
Built-in Fan ON/OFF control
Built-in DC OK/Remote ON-OFF/Remote Sense
Current sharing up to 4000W (3+1)
Standby power 5v/0.3A
No load power consumption <0.85W
5 years warranty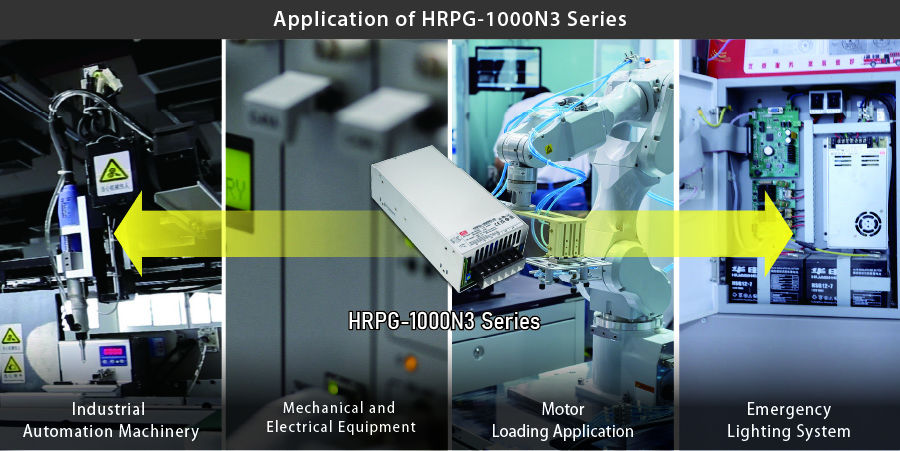 HRPG-1000N3