Product Notice: MEAN WELL standard products have complied with Compulsory Registration Order - Phase IV issued by Bureau of Indian Standards

India's Ministry of Electronic Information Industry Technology (MeitY) issued a notice on April 1, 2020 adding the Compulsory Registration Order - Phase IV, wherein,
Category No. 54 — "Standalone Switch Mode Power Supply"
is included and implemented on April 01,2021 based on "Electronics and Information Technology Goods (Requirements for Compulsory Registration) Order, 2012." Accordingly,
enclosed-type power supply products with output under 48V
(inclusive) need BIS certificates to be sold in the Indian market alone after April 01,2021
. The definition and registration requirements of Standalone Switch Mode Power Supply may be referred to at the
official FAQ
.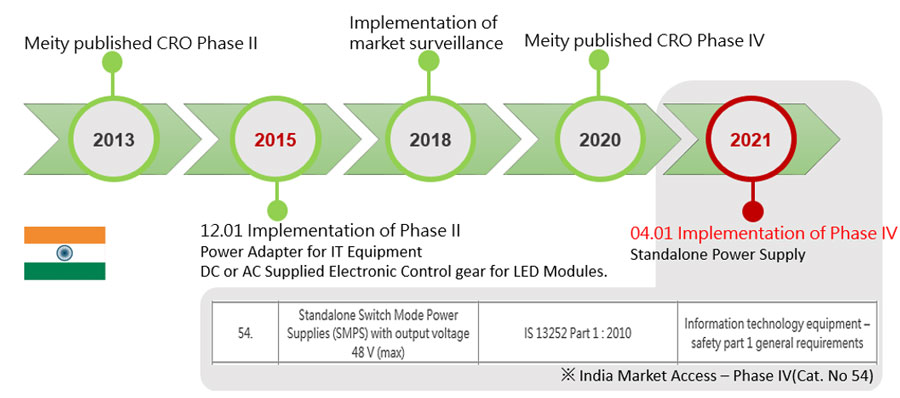 Since Q4 2020, MEAN WELL's Group Product Strategy Center has been reviewing all product series and launching the India Market Access Program. To date, more than 550 of MEAN WELL's standard power supply models have obtained BIS certification. Please refer to MEAN WELL Group's
official global website
for the latest updated specifications and BIS certificates.
As a leading global standard power supply industry company, MEAN WELL has always maintained a high degree of awareness of the pulse of global regulatory trends and dynamics, taking the lead in complying with local regulations to ensure our certification of products is up to date. Thus, customers can use the MEAN WELL standard power supply products confidently for terminal applications and safely sell them in the global market. In response to India's new compulsory requirements, MEAN WELL continues to provide customers with the best cost-effective standard power supply certified products. Please feel free to contact the relevant MEAN WELL business representative for inquiries regarding purchasing MEAN WELL BIS certified products.
MEAN WELL ENTERPRISES CO., LTD
Product Strategy Center, Simon Kuo
Certification Center IA team, Elbee Shen