New Product ~ ELG-200/240 & ELG-200-C/240-C Series (200W/240W C.V. + C.C. Output/ C.C. Output LED Drivers with PFC)


Soon after MEAN WELL released the new generation outdoor intelligent LED driver—ELG family, the 75~150W ELG-75/100/150 series (C.V.+C.C. output) and the ELG-75-C/100-C/150-C series (C.C. output) have rapidly become the preferred choice for LED drivers requiring intelligent dimming function just within a year after being released to the market. In order to further fulfill the application demands for high wattage and large scale LED lighting luminaires from the market, MEAN WELL extends the output wattage up to 200W /240W and is pleased to unveil the ELG-200/240 series (C.V.+C.C. output) and ELG-200-C/240-C (C.C. output). Up till now, the ELG family is ready to offer the complete LED driver product line for outdoor lighting luminaires covering 75~240W.

The design of these four series is consistent with the ELG family, providing various models with diversified dimming function options (e.g. 3 in 1 dimming function, smart timer dimming function, DALI function, etc.) that are perfectly suitable to be applied to the luminaire applications such as LED street lighting, LED harbor lighting, LED bay lighting, LED flood lighting, and so on.

100~305VAC input
ELG-200/240: Constant Voltage (C.V.) + Constant Current (C.C.) output; ELG-200-C/240-C: Constant Current (C.C.) output
Built-in active PFC function
High efficiency up to 93%
Working temperature (case temperature)— ELG-200/240:-40~+90°C; ELG-200-C/240-C:-40~+85°C
Protections: Short circuit / Over current (ELG-200/240 only) / Over voltage / Over temperature
Comply with harmonic current limit per EN61000-3-2 Class C (≧50% load)
Meet 6kV surge immunity level (EN61000-4-5)
Complete approvals: UL / CUL / ENEC / CB / CCC/ CE
Type "HL" for use in class I, Division 2 hazardous (Classified) location luminaires
Metal case, dimension ( L x W x H ): 244 x 71 x 35.5 mm
5 years warranty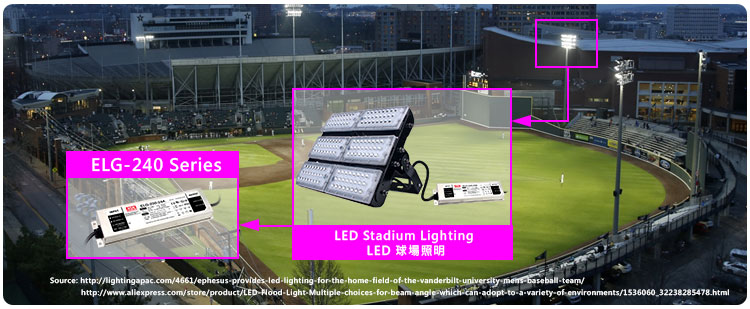 ELG-200 Series
ELG-200-C Series
ELG-240 Series
ELG-240-C Series