MEAN WELL Digital Power Supplies Ranked Top for Product of the Year 2019
The new 3.2KW digital power supplies series:
DPU/DRP/DBU/DBR-3200
was voted as runner up in the category of Strohmversorgung by the readers of the Elektronik journal. With this, it was highest ranked among other solutions for Switch Mode Power Supplies.
MEAN WELL's digital controlled power supply solution impressed the jury and readers due to its high efficiency, compact design and the implementation as a platform design which includes power, rack and battery charging solutions, which allow this series to be used in a wide range of applications.
Ms. Melanie Skrilin (
Schukat Elektronik
) and Mr. Meerten van Oostrum (MEAN WELL) had the honor to receive the award on behalf of MEAN WELL and particularly our dedicated team of experienced engineers in Taiwan.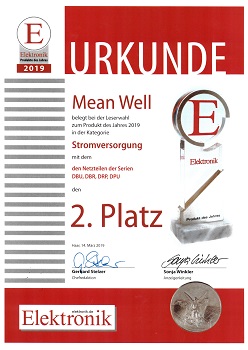 © Horacio Canals | Elektronik

Our goal is always to create a wide portfolio of our power supplies so that for any purpose a MEAN WELL solution can be found. This with high quality, attractive cost and good availability.

At MEAN WELL we are very proud of this new series and the recognition by that the readers of Elektronik journal who have awarded us this recognition. The readers' votes strengthen our belief that we are developing the right standard products for a dynamic-developing market.