XLG-DA2 Series: 50W~320W DALI-2 Digital Dimming LED Driver
Viewers : 2155


MEAN WELL's XLG series complied with the latest safety standards and isolated dimming design, covered both constant current and constant voltage applications. The series can be used with general constant current luminaires such as street light, floodlight, bay light or general 12V/24V/48V constant voltage LED strips for lighting applications. It not only conforms to the independent control gear design, provides IP67 waterproof and 3-in-1 dimming functions; it has also been added the DALI-2 digital dimming function to provide a more completed solution for intelligent system integration.

DALI (Digital Addressable Lighting Interface) is a protocol described in the technical standard IEC 62386 for digital control of building lighting systems. As the digital lighting evolves, the DALI Alliance (DiiA) developed the DALI-2 certification program; All of the certified DALI-2 products would be more compatible and interoperable to avoid pairing issues between various manufacturers. The newly added products that meet the DALI-2 dimming standard have included a full series of XLG-50/75/100/150/200/240/320W; provide a variety of indoor and outdoor LED lighting for DALI system integration. Also, an additional set of 12V/250mA auxiliary source output can be selected for products above 150W, which would lower the risk of being damaged by surge conduction.

The XLG series adopted constant power design that is convenient for customers to use in different output currents. In order to prevent the defective issues caused by the abnormal temperatures, MEAN WELL redefined the over-temperature protection so that the LED driver would derated to 75~50% when the temperature increased. In addition, the XLG series also provide IOVP (Input Over Voltage Protection), which would automatically shutting off the LED driver when the input voltage is higher than 320 VAC, to avoid power failure damaged by excessive AC input voltage.

XLG-DA2 Series Output Types and Function:
Series

L Type

M type

H Type

Auxiliary Source (Options)
(12V/250 mA)

XLG-050-DA2

V (0.35~0.7A)

V (0.9~1.4A)

XLG-075-DA2

V (0.7~1.05A)

V (1.3~2.1A)

XLG-100-DA2

V (0.7~1.05A)

V (1.7~2.7A)

XLG-150-DA2

V (0.7~1.05A)

V (1.4~2.1A)

V (2.6~4.1A)

V

XLG-200-DA2

V (0.7~1.05A)

V (3.5~5.5A)

V

XLG-240-DA2

V (0.7~1.05A)

V (1.4~2.1A)

V (4.2~6.6A)

V

XLG-320-DA2

V (1.05~1.4A)

V (2.1~2.8A)

V (5.5~7.4A)

V
NOTE: "V" indicates that this model is available
Full power output at 70~100% operation. (Constant Power mode)

Wide input range 100-305 VAC (Class I)

Protections: Short Circuit Protection (SCP) / Over Temperature Protection (OTP)

DALI-2 dimming function with isolated design

Surge protection: 6KV/4KV

Lifetime >50,000 hrs and 5 years warranty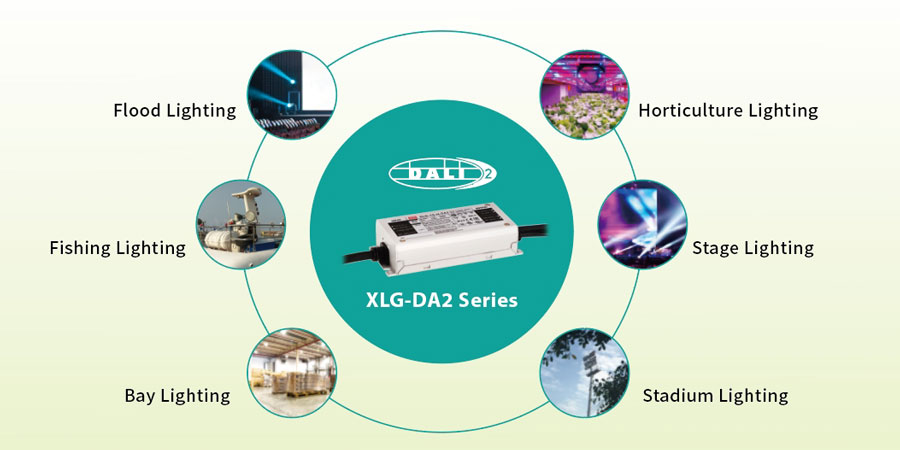 XLG-50-DA
2
XLG-75-DA2
XLG-100-DA2
XLG-150-DA2
XLG-200-DA2
XLG-240-DA2
XLG-320-DA2